You are planning to travel to New Zealand , and the different voltages and sockets can often be Confusing when planning on travelling to another country . You need to make sure that your devises are compatible with the power sockets in New Zeeland , or if you need to use a world travel adapter . We will cover all the different New Zeeland's power plug type, power voltage , and some information about the travel adapter .
The Electricity in New Zealand :
The New Zealand voltage is: 230 V
New Zealand standard frequency: 50 HZ
The New Zealand power Plug Types: I
Power plugs and sockets in New Zealand
   New Zealand, as well as Australia, China, and several other countries, uses different power plugs to the rest of the world and this power plug is known as the Plug Type I . See the following picture :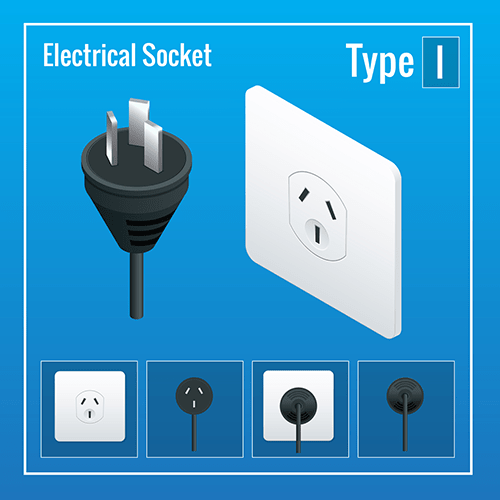 Type I: Is mainly used in New Zealand, Australia, China, and Argentina. And this socket only works with the plug I.
The voltage and frequency in the New Zealand
The standard voltage in the New Zealand is 230 V and the standard frequency is 50 Hz. You can use your electric appliances in New Zealand if the standard voltage in your country is in between 220 V and 240 V as is in the UK, Europe, most of Asia, Africa, and Australia.
If the standard voltage in your country is in the range of 100 V and 127 V as is in the United State, most South of American countries and Canada, you will need a voltage converter in New Zealand .
And ,not all your appliances need converters or transformers before you can use them. Because some of the appliances are dual voltage, which means they can be used with more than just one voltage standard . And to check if that's the case, look for something like this 100-240 Volt ~ 50/60 HZ on the nameplate of your appliance.
Be careful , don't forget to switch the voltage level manually before you plug your device into the outlet of New Zealand ! .
The travel adapter in the New Zealand
If you are thinking to travel to New Zealand, you will need a power plug adapter if you plan to bring your own Appliances such as a shaver, hair dryer etc. The adapter is fundamental, regardless of the device. The Plastic bridges the design separate between one plug and the foreign socket. With it, you can use your three-Pronged hair straightened in a two-holed outlet. Without it, you are stuck with curly hair. And if you are going to buy an adapter, be sure to get one with the earthling pin.
Something you must not forget:
Money and passport are the only essentials you will need.
Cash works better than cards.
Don't forget to download a useful application.
Power bank and/or Electrical adapter.