Are you planning to visit or travel to India, wondering whether your cell phone or your laptop keep on working , before you start your trip you will need to know :
What's the kind of plugs is used in India?
What's the voltage frequency in India?
Do you need an adapter in India?
The Electricity in India :
The Indian voltage is: 230 V
Indian standard frequency: 50 HZ
Indian power Plug Types: C, D, and M
The power plugs and sockets in the India
The power plugs and sockets in India are of types C, D, and M. Check out the following pictures :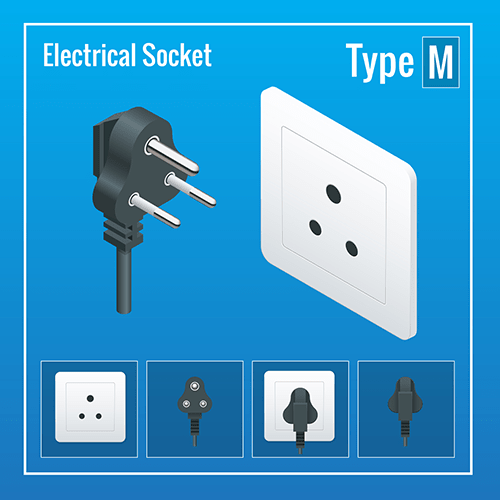 Type C: This type is also known as the standard Euro plug, and this socket also works with plug E and plug F.
Type D: Is mainly used in India, Nepal and some African countries, this socket only works with plug D.
Plug type M: This type looks like plug D, but with larger pins. And this socket only works with plug M.
The voltage and frequency in the India
The standard voltage in India is 230 V and the standard frequency is 50 Hz, and you can use your electricappliances in India, if the standard voltage in your country is in between 220 and 240 V as is in the UK, Europe, Australia and most of Asia and Africa.
But If the standard voltage in your country is in the range of 100 V and 127 V as is in the United State of America, Canada and most South American countries, you need a voltage converter in India.
Otherwise , if the frequency in India 50 Hz differs from the one in your country, it is not advised to use your appliances, but if there is no voltage difference, you can try to use the appliances for a short time .
Travel adapter in India
Electricity supplies worldwide can vary from anything between 100V and 240V, and It can be dangerous Using electrical appliances that are rated at a voltage different from the supply. As voltage can differ from country to another, you may need to use a voltage converter or transformer in India.
And if the frequency is different, the normal operation of an electrical appliance may also be affected. The most of voltage converters and transformers come supplied with plug adaptors, so you may not need to buy a separate travel adaptor .
For your information :
If you are from the united state, you will need to bring a suitable to fit a US plug into an Indian power outlet.
the voltage from 230 volts to the voltage on your device.
If your device is 230 volts or is dual voltage and the plug can fit in an Indian power outlet then it will work in India.
If your device can run on 230 volts or is dual voltage but the plug won't fit in an Indian power outlet, you
Really need to bring a plug adapter for India .
If your device doesn't run on 230 volts and isn't dual voltage you'll also need a power converter for India to convert