You are thinking of travel to Vietnam , and you need to make sure if your devices are compatible with the power sockets in Vietnam or not , or you need a world travel adapter . We will cover all the different Vietnam power plug types, power voltage, and a few extra information about the travel adapter.
The Electricity In Vietnam
Vietnam Wall Outlet Voltage: 110 / 220 V
Vietnam Standard frequency : 50 HZ
Vietnam Power Plug Types: A, C, D
The power plugs and sockets in Vietnam
The power plugs and sockets In Vietnam are of type A, C and D. Check out the following pictures :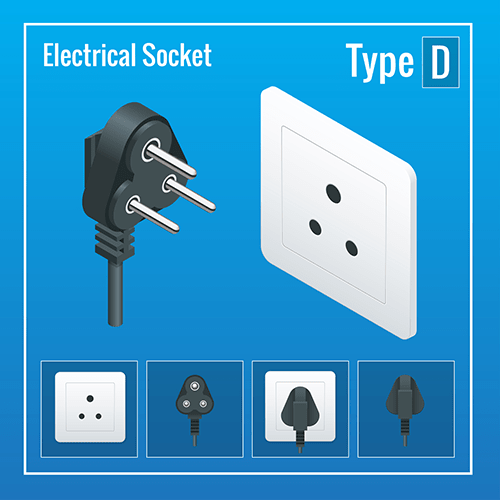 Type A: This type of plug mainly used in Central and North America, Japan and China. This socket only works with plug A.
Type C: this plug Also known as the standard Euro plug. This type socket also works with plug E and plug F.
Type D: This type is mainly used in Nepal, Sri Lanka, and some African countries. This socket only works With plug D.
The voltage and frequency in Vietnam
In Vietnam the standard voltage is between 110 and 220 V, and the standard frequency is 50 Hz. Pay attention! more than one voltage is being used 110 / 220 V In Vietnam. And It can depend on the region, the city or even the hotel which voltage you will come across. You can not use your appliances if the local voltage exceeds the maximum voltage of your appliances. You will need a voltage converter!
If the frequency in Vietnam is 50 Hz differs from the one in your country, it is not advised to use your appliances. But if there is no voltage difference, you could try to use the appliance for a short time.
Check the label on the appliance if you want to be sure. Some appliances never need a converter. If the label states: 100-240V, 50/60 Hz' the appliance can be used in all countries in the world. This is common for chargers of laptops/tablets, cell phones, toothbrushes, photo cameras, etc.
The travel adapter in Vietnam
You need a voltage converter if the local voltage is less than that in your own could try Otherwise, some say You can carefully try to use your appliances in Vietnam without a converter, and Most likely they won't be damaged, but may not function optimally. But If you don't want to take any chances, use a converter.
For your information :
If you are from Europe with an exception of the UK :
– You are Lucky , your power plugs are similar to the ones used in Vietnam .
If you are From Central and North America or Japan :
– Even though your plug can be used in Vietnam, it is important to check the compatibility of voltage.
If you are from the UK , Malta, Malaysia, Ireland, Hongkong or Singapore :
– Although type G plugs with 3 rectangular pin can be used in Vietnam in some places, it is less common and in most cases require an adapter.
If you are from Australia, New Zealand, South Africa, Argentina or parts of China :
-You need an adapter, However, if your power plug only has two pins, it still can be used if you force the plug Hard enough into the outlet sockets.