If you are thinking of travel to UK , and you need to make sure that your devices are compatible with the power sockets in England or if you need a world travel adapter. We will cover all the different England power voltage , power plug types and a few extra information about the travel adapter.
The Electricity Voltage In UK :
The UK Standard voltage : 220 V
The UK standard frequency : 50 HZ
UK Power Plug Types : G
The power plugs and sockets in UK
The power plugs and sockets in the UK are of type G. Check out the following pictures :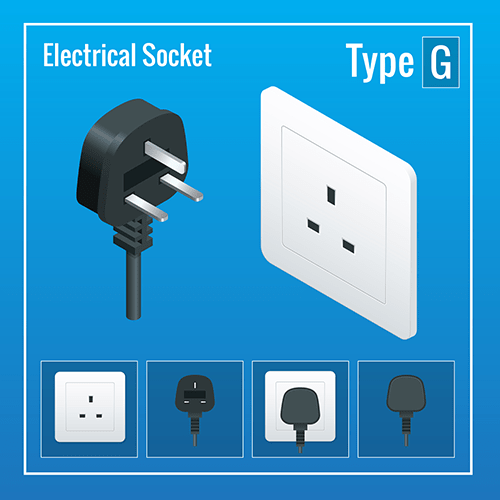 Type G : This type of plug is of British origin, this socket only works with plug G .
You will need a power plug adapter for sockets type G when you are living in the United States of America .
Your appliances with plug A don't work with socket G.
Your appliances with plug B don't work with socket G.
The voltage and frequency in UK
In United kingdom the standard voltage is 230 V and the standard frequency is 50 Hz. You can use your electric appliances in England, if the standard voltage in your country is between 220 V and 240 V as in Europe, Australia, UK and the most of Africa and Asia, but if the standard voltage in your country is between 100 V and 127 V as in Canada , the United State and most of south American Countries you will need a voltage converter in England.
If the frequency in England is 50 Hz differs from the one in your country, it is not advised to use your appliances. But if there is no voltage difference, you could try to use the appliance for a short time. Be careful with moving, rotating and time related appliances like clocks and electric fan heaters , if you want to be sure, check the label on the appliance. Some appliances never need a converter , if the label states INPUT between 100 and 240V, 50 and 60 Hz the appliance can be used in all countries in the world , this is common for chargers of tablets/laptops, photo cameras, cell phones, etc
The travel adapter in UK
If you are thinking for a trip to England it is useful to know if you can use any important gadgets like cell phones or tablets when you are there , And without knowing which power socket to expect you are likely to bring the wrong power charger, leaving you having to borrow a suitable power adaptor on arrival that might be incompatible and will damage your device. Varying different standards and voltages can all lead to confusion when planning to stay in another country for the first time traveler.
The best power adapter for England is a Type G plug adapter which will allow you to use any 230 volt appliance or device.
In England :
In the uk you need a power plug adapter, when you living in the United States of America.
You also need a voltage converter.
Be careful with certain appliances because of the difference in frequency.