Singapore power plug type travel adapter , when you planning to travel to Singapore, it can be useful to know in advance if you will be able to use your vital electronics that you are bringing along with you. Without knowing which wall socket is being used you may bring the wrong power adaptor.The different voltages and sockets can often be confusing when planning on traveling to another country especially if you've never visited before. With only a handful of different types of common standards used throughout the world, this article tells you exactly what you will need in advance to charge your electronics in Singapore during your trip.
The Singapore voltage plug type and frequency :
Singapore wall Outlet Voltage is: 230 V
The standard frequency: 50 HZ
Singapore power Plug Type: G
The power plugs and sockets in Singapore
The power plugs and sockets in Singapore are of type G. Check out the following pictures :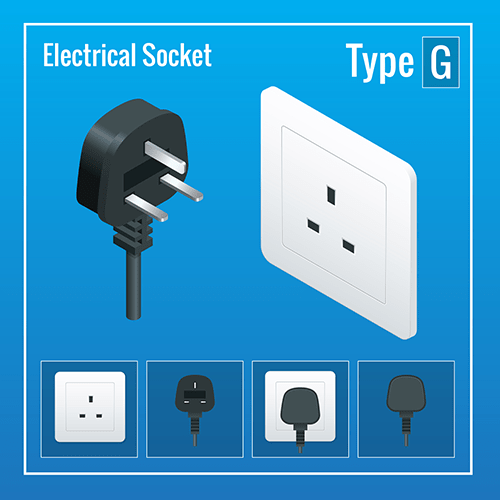 Type G: This electrical type is an origin British plug that has a protective fuse inside to protect cords from high-current circuits. Type G outlets generally include safety switches, the socket only works with plug G.
The voltage and frequency in Singapore
Standard voltage in Singapore is 230 V and the standard frequency is 50 Hz. You can use your electric appliances in Singapore, if the standard voltage in your country is between 220 V and 240 V as in Europe, Australia, UK, Asia and most of Africa, but if the standard voltage in your country is the range of 100 V and 127 V as in Singapore, the United State and the most of South American Countries, you will need a voltage converter in Singapore . However, some electronic devices are built to work with the different voltages, and you are able to find this information on the label or by doing some research. Don't just guess, though, it can be risky.
The travel adapter in Singapore
If packing for a trip to Singapore it can be useful to know if you can use any common electronics such as tablets or mobile phone when you're there, and without knowing which power socket to expect you are likely to bring the wrong charger. The difference between voltages and standards can all lead to confusion when planning to travel to another country especially for the first time traveler. Singapore uses the standard Europe non-grounded electric power plug, if you are staying in a hotel and you a problem to get an adapter you can
call the hotel and request a reservation :
something you must not forget :
Money and passport are the only essentials you will need. Cash works better than cards .
Often the plug sockets are located away from the bed .
try and avoid the sun 11 am through 3 pm and smile a lot.
Don't forget that Singapore is a beautiful country to visit , so enjoy your time .