You want to travel to Portugal and you plan to discover the country. To make sure you see all the Portugal Great places, it is important to plan your trip, before you set off on your adventure. And to make sure that your appliances that you will pack with you will work, you need to know in advance the different types of plug , the voltage frequency , and the some information about the converters and the transformers .This article tells you what you need to charge your electronics in Portugal.
The Electricity in The Portugal
The type of plugs : F
Standard voltage : 230 V
The standard frequency : 50 HZ
Power plugs and sockets in Portugal
The power plugs and sockets in the Portugal are of type F. Check out the following pictures :
Type F : This type also known as Schuko , and this socket also works with plug C and plug E .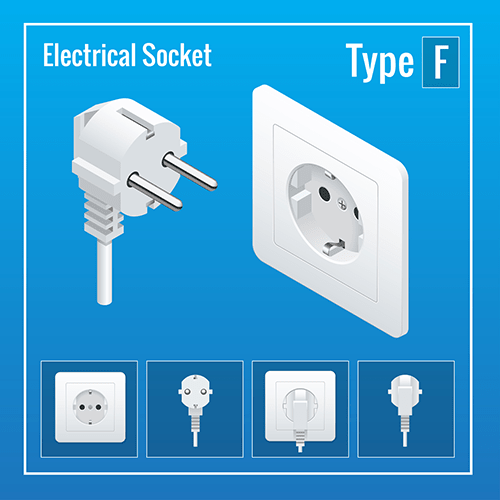 The voltage and frequency in Portugal
The standard voltage in Portugal is 230 V and the standard frequency is 50 Hz. And you can use your electric appliances in Portugal, if the standard voltage in your country is in between 220 and 240 V as is in the United Kingdom, Europe, the most of Asia and Africa and Australia .
And if the standard voltage in your country is in the range of 100 V and 127 V as is in the United State, Canada, and most South American countries, you will need a voltage converter in the Portugal.
Be careful, if the standard frequency in Portugal differs from the one in your country, we do not advise you to use your appliances. And if there is no voltage difference, you could try to use the appliance for a short time.
Voltage converters and transformers in the Portugal
The electricity in The Portugal is 230 Volts, alternating at 50 cycles per second. And if you travel to Portugal with a device which not accept 230 Volts at 50 Hertz, you will need a voltage converter .
The Transformers in Portugal have a much lower maximum Watt rating, usually 50 or 100. Transformers can be used constantly and provide better electricity for low wattage appliances like battery chargers, radios, laptop computers, cameras, mp3 players and camcorders.
Some of the companies sell combination converters that include both a resistor network and a transformer in the same package. And this kind of converter will usually come with a switch that switches between the two modes.
The Portugal country is deserve to visit because :
Portugal and England have the oldest diplomatic alliance in the world.
Portugal is one of the world's top surf spots.
Portuguese Fado was classified as world cultural heritage by UNESCO.
Portugal was the first colonial power to abolish slavery.
Portugal is the oldest country in Europe.
Portuguese is the largest producer of cork in the world.
Portugal is a beautiful country to visit