Some keys for Using Your Devices in Kenya You felt ashamed to admit how many times when you forgot to bring the right electric adaptor for your equipment -your mobile phone and your laptop. Then you must go and buy a converter or adaptor at the airport, or oat an expensive tourist trap.
You will have a doubt about if your appliances will work in Israel or not because the multi-voltages and plugs make you confusing. So what do you need to know in advance to charge your appliances in Kenya?
Adaptors for the Kenya Electric Plug
You need to know that there are 15 different types of electrical outlet plugs in the world today. So you will be Perplexing.
In Kenya, the traditional power socket uses plug type G which has three rectangular pins in a triangular pattern, this type is of a British origin. It only works with plug G.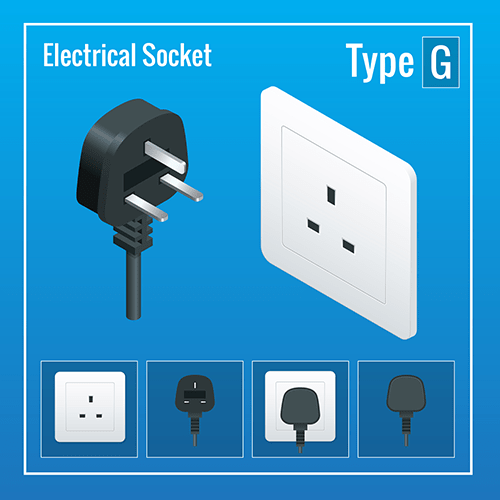 Voltage Requirements
The regional electricity system in Kenya is setup to support the following:
The standard voltage of 240 volts single phase.
The standard frequency of 50 Hertz.
   The standard voltage in Kenya is 240 V and the standard frequency is 50 Hz. For that, you can use your electric appliances in Kenya, if the standard voltage in your country is the range of 220 V- 240 V which is common in the Europe, United Kingdom, Australia and most of Asia and Africa.
If you want to be sure, you can check the label on the back of the appliance. The some of appliances will never need a converter. And if the label states 'INPUT: 100-240V, 50/60 Hz' it means that the appliance can be used in all countries in the world.
Kenya travel adaptors
With many things to see and do, discovering all the delights of Kenya can take a bit of planning – especially if you are planning on going on safari. It is important for you to arm yourself with knowledge, to make sure you see all the delights this country has to offer.
In Kenya the associated plug type is G, and operates on a 240V supply voltage and 50Hz.
If you are from the United State of America:
You will need a travel adapter for a trip from the United States to Kenya. Because In Kenya, the people are using multi plugs and electrical outlets that are not compatible with plugs from the United States!
Kenya uses electrical outlets of type G. The electrical plugs of type A and B, are common in the United States, are not in use in Kenya.
The voltage in Kenya is 240 volts is higher than the 120 volts in the United States. It means that you have to be careful when using your equipment purchased in the United States, you need to read the instruction of your equipment and check at which voltage it is safe to use.
The frequency is lower than the frequency in use in the United States. And this difference may not be a problem for most of your devices, but you still have to be careful: Devices that either measure time, or are equipped with So, if you plan to use shavers, heaters, kitchen appliances or alarm clocks in Kenya, read the instruction to see if your devices are safe to use on the local utility frequency.