You felt embarrassed to admit how many times when you forgot to bring the right electric adaptor for your vital appliances – your laptop, and your mobile phone. And you must go and buy a converter or adaptor at the airport, or oat an expensive tourist trap. Or you have a doubt about if your appliances will work in Israel or not because the multi-voltages and plugs make you confusing.
So what do you need to know?
Israel Voltage Requirements
In domestic electricity system in Israel is setup to support the following:
The Voltage of 230 volts single phase, which is similar to most European countries.
The Frequency of 50 Hertz, also as in most of Europe.
You coming from the United States or from any country that supports 110 volts, you may also need a converter to 220/230 volts. The most modern devices such as mobile phones and laptops have a built-in transformer. But if you have a 110 device, you do need an all-in-one converter and adaptor.
Adaptors Travel for the Israel Electric Plug Socket
Do you know that there are 15 different types of electrical outlet plugs in the world today? So it can get confusing…
     In Israel, the traditional power socket uses plug type H.  Plug type H is unique to Israel and the West Bank. And this plug is grounded and has three round pins. This socket has three roundish pin holes to accept the H plug, and this type is unique but it is also working with plug C.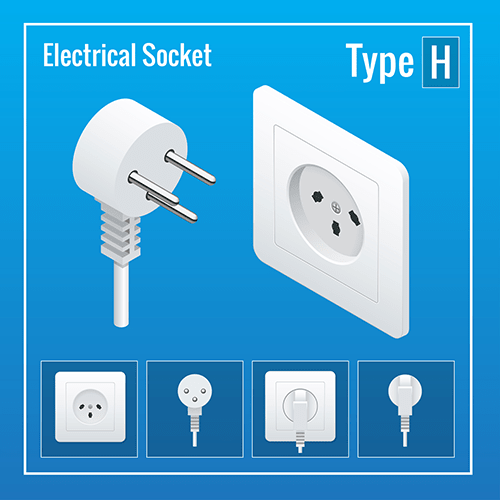 In another hand, the newer versions of the 'H' socket from the past two decades can also support the standard double-pin, European C type plugs. But not always because the older sockets or some odd ones still don't. In the newer hotels or the renovated ones, you will probably also find European C type sockets.  This plug type of sockets is common in South America, most of Europe and parts of Asia.  
The travelers from the United States and the United Kingdom will need adaptors that can support C
and/or H sockets and plugs .
What you need to See and do in Tel Aviv
When you go to Tel Aviv Israel , the best way to get a feel for it is by walking it. walk around, walk more ,stop at a local cafe or bar to enjoy the natives and the lovely atmosphere.
If you have not been to Tel Aviv ,if you have not soaked up the sun on one of the stunning Beaches :
The some of beaches are perfect for young children, others are thriving single scenes.
And the other beaches are quiet and tranquil, some are great for people watching.
There are the surfers beaches. Beaches with volleyball courts, playgrounds and outdoor gyms.
Also there is a dogs beach, a gay beach and during the summer, a unisex beach for religious people!