Are you thinking to travel to Cyprus, and wondering whether your cell phone or your laptop keeps on Working when you are there? Because the multi plug types and voltages can make you confused when you thinking to travel to another country especially you did not visit before.
Before you set on your trip this are some things you need to know:
The kind of plugs is used in Cyprus.
The voltage and frequency in Cyprus.
Some information about the travel adapter.
The Electricity in Cyprus :
Cyprus standard voltage is : 240 V
Cyprus standard frequency : 50 HZ
Cyprus power Plug Types : G
The power plugs and sockets in Cyprus:
In the Cyprus the power plugs and sockets are of type G. Check out the following pictures: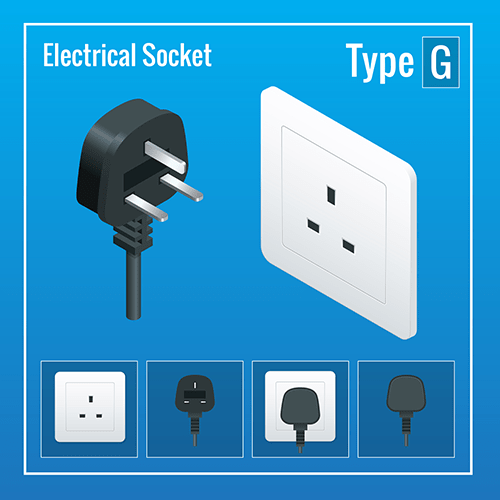 Type G: This plug type is of British origin, also known as a type G power outlet. It looks like 3 vertical holes with plastic shutters in a triangular shape. And this plug socket only works with the plug G.
The voltage and frequency in Cyprus:
        In Cyprus the Standard voltage is 240V and the standard frequency is 50 HZ. If the equipment is a single voltage rated appliance, it will need to operate at the same voltage as the supply voltage of the country 240V.
But if the appliance does not work you should use alongside a voltage transformer or converter to allow the appliance to work properly and safely.
You need to check the label on the back of the appliance. The some of appliances never need a converter. So if The state in the label is 'INPUT: 100-240V, 50/60 Hz' the appliance can be used in all countries in the world.
And this is common for the chargers of tablets/laptops, photo cameras, cell phones, etc.
The travel adapter in Cyprus:
In Cyprus the people using a couple of different types of adapter plugs. And when traveling overseas it is very important to take along the correct adapter plug for your trip.
The travel adapter plugs allow electrical connections up to 240 volts. The adapter plug does NOT change the
current or voltage unless your appliance is dual voltage. A non-grounded adapter may NOT be used with equipment that has grounded plugs; for these, you will need a grounded adapter.
Do you need a travel adapter for a trip from United State to Cyprus?
Yes, you will need a travel adapter for a trip from the United States to Cyprus. Cyprus uses the electrical outlet and the plug type G that is not compatible with plugs from the United States!
The voltage is higher than the 120 volts in the United States. And this difference means that you have to be more Careful when using electrical devices purchased in the United States.
The frequency is lower than the 60 Hertz in use in the United States. It may not be a problem for most of your appliances, but you still have to be careful.