When you are thinking of a travel to a country, surely you will have a doubt about if your devices will work when you are there or not, because the multi plugs and voltages in the worldwide can makes you perplexing.
So what you need to know in advance to charge your appliances in Chad?
Electrical voltage frequency plug type in the Chad:
The Standard voltage in Chad is : 220 V
Standard frequency in Chad is: 50 HZ
The power Plug Types in Chad : D, E and F
The types plugs and sockets in the Chad:
In Chad, there are three associated plug types the plug type D, E and F,
the first one is the plug D which mainly used in the India, Sri Lanka and the some of American Countries. And this plug socket is only works with the plug.
The second one is the plug type E is a French origin. This plug socket also works with the plug type C and with the plug F. And the last one is the type F also known as Schuko, this plug socket also works with the plug C and the plug E.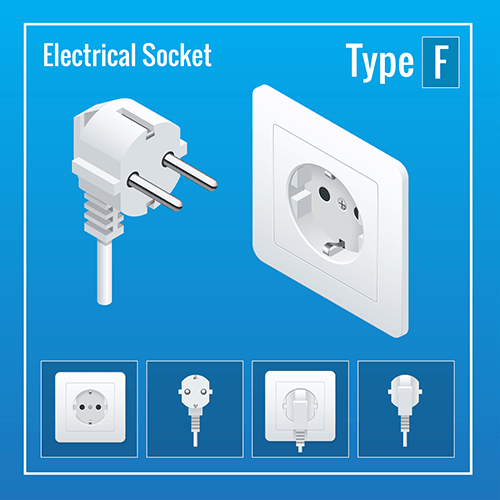 The voltage and frequency in the Chad:
The standard voltage in Chad is 220 V, and the standard frequency is 50 HZ If the standard voltage in your country is in between 220V and 240 V which is in the United Kingdom, the Europe, Australia and most of Asia and Africa, you can use your electric appliances in Chad without any problem.
But if the standard voltage in your country is in the range of 100 V – 127 V as is in the United State, Canada and most South American countries, you might need a voltage converter in Chad. In otherwise, if the frequency is differs from the one in your country, it is not good for you to use your equipments.
The travel adapter in the Chad:
It is not good for you to bring with you a single adapter for each appliance – for every device you want to use you need to bring a separate adapter. And this plug adapter only modifies the actual shape of the plug to fit in a Chadian power outlet and not the actual voltage used in Chad.
If your appliance doesn't support a 220 volt power outlet and isn't dual voltage then you will still need to pack a voltage transformer. The some hotel rooms might only have a single wall outlet available.
Some information for the travelers living in the United States planning to travel to the Chad:
You will need a power plug adapter in Chad, when living in the United States of America. The people in Chad are using a different plugs and electrical outlets that are not compatible with plugs from the United States!
And you also need a voltage converter.
You need to be more careful with certain appliances because of the difference in frequency.
READ ALSO